Spoken English Classes | Gorakhpur
4.8 Ratings | 20000+ Enrolled | Read Reviews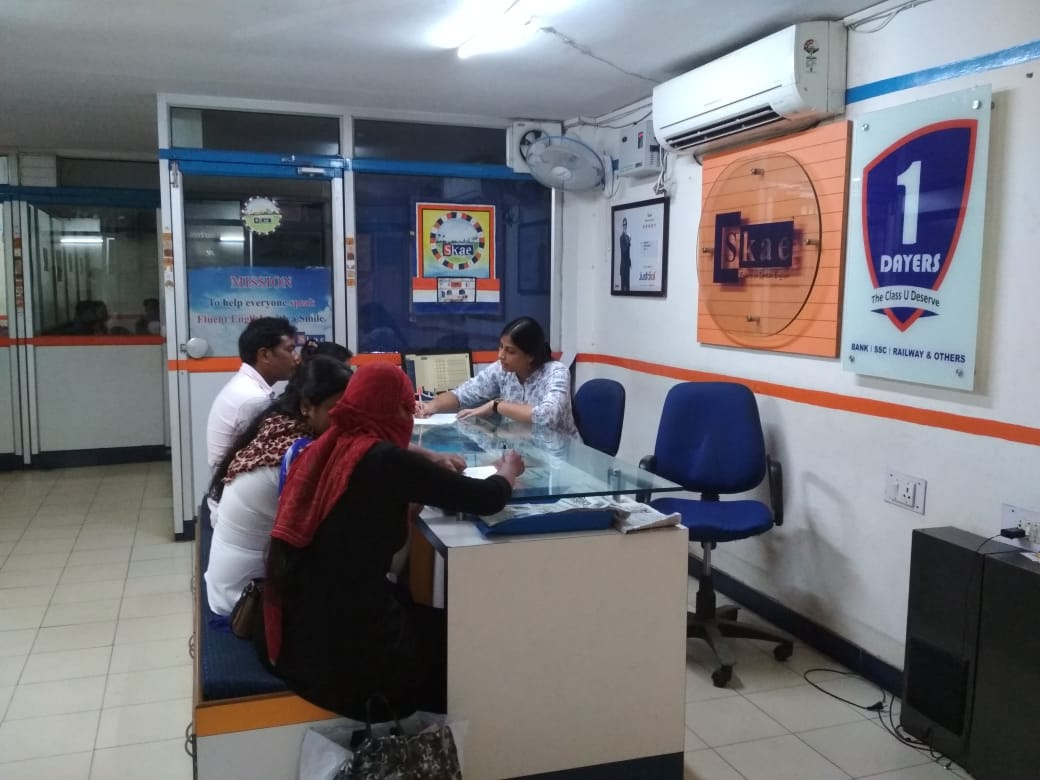 Join Spoken English Classes​
Speaking is a crucial component of human communication and holds significant importance in various aspects of life. It allows individuals to connect, share, inspire, and lead. One with strong speaking abilities has a positive impact on both their personal lives and the world around them.
SKAE Institute recognizes the importance of Spoken English and offers comprehensive Spoken English Course Classes to help individuals improve their communication skills. In this course, speaking is given the utmost attention along with reading and writing abilities. Our Spoken English training plan instructs students in all aspects of spoken English, including grammar, vocabulary, and pronunciation. Our programmes guarantee that students develop strong Spoken English skills.
SPOKEN ENGLISH CLASS OBJECTIVES
To Improve your English Pronunciation
To enhance your English Speaking Fluency
To build confidence in Public Speaking
To help in Successful Job Interviews
To prepare and support in delivering presentations in English confidently.
To make you feel confident during International travel.
To make you become a Fluent English Speaker
To easily engage in social conversations in English
To effectively communicate your ideas and opinions To open opportunities for professional growth
Spoken English Classes are offered based on different learner needs.
Offered classroom based courses
Special focus on pronunciation
Designated specific days for presentations or speeches on certain topics that help to perform professionally
Includes Team Based Activities that help individuals understand each other and the value of Teamwork
Includes Practice Everyday Conversations
Includes Group Discussions and Debates
Institute Timing
Mon to Sat - 7:00 AM to 7:00 PM
Sunday Off
Batches
Mon to Fri
Duration: 2 hours
Saturday
Doubt Clearing session
Group Discussion
Business Hours
Weekdays - 8AM to 5PM
Weekends- OFF
ENROLLMENT PROCESS IN 3 EASY STEPS
Get Enrolled & access Classes in 3 easy steps
LEARN SPOKEN ENGLISH IN GORAKHPUR
PROPER PRONUNCIATION
BE FORM
WH. FORM
PART OF SPEECH

SILENT LETTER WORDS

BASIC OF TENSES

INTRODUCTION
PRACTICAL USE OF GRAMMAR
VOCABULARY
REMOTE HESITATION
IMPROVING PRONUNCIATION
SENTENCE FRAMING
SKIT/ACT
BODY LANGUAGE
GROUP DISCUSSION
CONVERSATION
STORYTELLING
EXTEMPORE TOPIC
INTERVIEW TECHNIQUE
DRESSING SENSE
ACHIVEMENT DAY